Charity
Sailors Society
Sailors' Society has been bringing people together for 200 years, transforming the lives of seafarers and their families at home, in port and at sea through the delivery of chaplaincy, education and the relief of poverty and distress.
The charity works internationally to provide practical, emotional and spiritual welfare support to the world's 1.6m seafarers, regardless of background or faith. Sailors' Society chaplains and ship visitors have a presence in 91 global ports, with wider projects and services covering 30 countries.
Sailors' Society launched its first blend of BySea coffee in 2016. Every penny of profit from coffee sales helps to transform the lives of hundreds of thousands of people around the world. 90 per cent of everything we use comes by sea, transported by seafarers facing isolation, violent storms and even piracy. By switching your coffee to BySea coffee – you will be helping to build homes and schools in poor communities and keep children in touch with parents working at sea. We all rely on seafarers. Seafarers rely on us. You an make the switch here.
Please click on the link to find out more about the Sailor's Society. www.sailors-society.org
---
McMillan Coffee Morning – 7th September 2018
We held our annual McMillan Coffee Morning on Friday, and as always everyone in the Canterbury office put in lots of effort baking. The cakes went down well through the entire building and we raised £115.53 for the charity.
---
Pilgrims Hospice – 17th May 2018
Our Canterbury team held a cake sale for all of the offices in their building, raising £135.51 for Eileen's charity climb of Ben Nevis, in aid of the Pilgrims Hospice.
 
---
Clark Jets Rugby Donation
Tanya Wells our Reservations Manager was presented with a cheque at Canterbury Rugby Club on the 10th April 2018 on behalf of the Clark Jets Rugby. Throughout 2017 Ye Olde Beverley held a monthly charity quiz night which various members of the Canterbury team participated. A generous £1504.23 was raised throughout the year and has been donated to Clark Jets Rugby based in The Philippines and will go towards enriching the lives of the children at the club.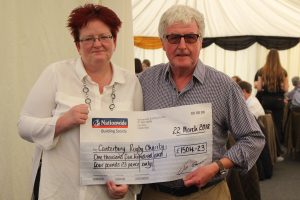 ---
 299 miles- 23rd-24th March 2017
Marine Travel team completed our challenge of 299 miles on a static bike and raised £430.00 for Cancer Research UK.
Eileen Climbs Ben Nevis for Pilgrims Hospice – 30th June 2018
Eileen from our Canterbury reservations team took part in the 'hardest thing she has ever done' and under took an 11 hour climb of Ben Nevis. The group tackled blistering heat and Eileen raised a commendable £845.51 for the Pilgrims Hospice.
---
World's Biggest Coffee Morning – 28th September 2017
Our team baked a delicious selection of treats and raised £100 for Macmillan.

---
Three Peaks Challenge June 18th -19th 2016
Our amazing team Eddie, Tash and Heather completed the three peaks challenge during the weekend of 18th-19th June. In 24 hours, through sun and rain they endured Ben Nevis in Scotland, Helvellyn in Cumbria, and Snowdon in Wales.
Collectively the event raised over £159,000 across all the teams that took part.