Charity
Sailors Society
Marine Travel is proud to support Sailors' Society, an international maritime welfare charity.  The charity reaches out to 1,000 merchant seafarers and their families each day, providing practical, emotional and spiritual welfare support in 90 ports and 30 countries.
Since 2006 we have raised in excess of £18,000 towards Sailors' Society work with seafarers, their families and communities around the world.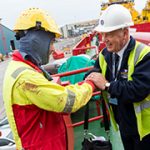 Sailors' Society chaplains and volunteers visit crew on board ships offering everything from a friendly ear and counselling, to transport into town and WiFi to make that all important call back home.  The charity also offers family outreach, welfare grants and scholarships to those in need.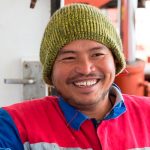 Sailors' Society is a leading light in the fight against poor mental health at sea. Their pioneering Wellness at Sea programme, which includes a free awareness campaign for shipping companies, coaching course, free app and online training, helps seafarers to maintain good health and wellbeing on board.
Sailor' Society Crisis Response Network (CRN) provides counselling, signposting and welfare support to survivors of incidents at sea such as abandonment, accident and ambush.
Sailors' Society runs projects to help seafaring communities from some of the poorest countries in the world.  Current projects include a mobile medical unit for retired seafarers in Chennai, India and the building of a school for the seafaring community on the tiny island of Lipayran, The Philippines.
Why should you care?
Almost 90 per cent of everything we own or use comes to us by sea – our cars, our computers, our phones.  Seafarers spend up to a year away from home and face challenges such as violent storms, extreme loneliness and the threat of piracy to bring us the goods we use every day.
How can you help?
There are so many ways for you and your business to lend your support.  You could sponsor a Sailors' Society project or get involved in one of their amazing challenge events.  Or donate your pre-loved goods to one of their charity shops.  If you have time to give, you could volunteer as a ship visitor or hold your own fundraising. Or do as we have and select them as your nominated charity!
Find out more at www.sailors-society.org
---