Marine Travel based in Canterbury, Dublin, and the Philippines, are absolutely delighted to announce extensions to sponsorship agreements with Canterbury Rugby Club and Marine Football Club. The extensions are to continue with the front of shirt and stadium naming rights agreements thru to May 2034.
This is pretty unique in the world of sports these days!! These new agreements will further cement all parties' friendships and commercial relationships.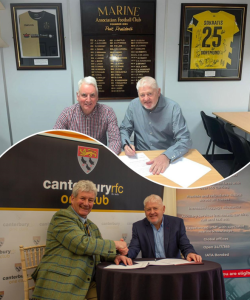 David Thompson, Marine Travel Managing Director;
"I am over the moon to extend these agreements, which will take our involvement with these clubs to 25 and 20 years, respectively. We have enjoyed highs and lows together in the past, myself and my staff hope to enjoy many more highs in the coming years.  It's a real privilege to be involved with both clubs."
Giles Hilton, Chairman of Canterbury Rugby Club;
"When Dave Thompson offered Canterbury a unique long-term extension of the sponsorship deal ten years ago, neither he nor us could have foreseen the club's amazing growth. His generosity and love of sport have played no small part in making that possible and extending that support for a further ten years means we can look to even broader horizons. Dave and Marine Travel have become an essential and valued part of Canterbury community rugby, not only as brilliant sponsors but as friends and fans. We are lucky to have them".
Paul Leary, Chairman of Marine Football Club;
"The association, support, commitment and loyalty given by Dave Thompson to Marine Football Club as the main shirt and stadium sponsor since 2012 has been exceptional.
This sponsorship commitment at any level of professional sport is unique. It demonstrates absolutely the strength of the relationship and feelings that Dave has for the football club he has supported since he was a young boy."