Seafarers and offshore workers travelling with Qatar Airways have access to a dedicated Mariner Lounge at Hamad International Airport at Doha.
What is 'Mariner Lounge'?
Mariner Lounge is a dedicated lounge at Hamad International Airport for seafarers and offshore workers to relax in transit at Qatar Airways' hub in Doha, whether they are going back to work at sea or a rig, or are on their way back home after being out at sea or on a rig.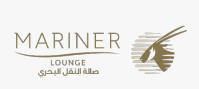 Who is eligible to use Mariner Lounge?
All Seafarers and Offshore workers who have Qatar Airways ticket, holding an inbound and/or onward Qatar Airways' boarding pass, and provide a valid identification document evidencing their capacity of seafarer or offshore worker can receive complimentary access to enjoy the facilities of Mariner Lounge.
What documents are accepted as valid identication as a seafarer or offshore worker?
Seafarers or offshore worker passengers in addition to presenting an inbound and/or onward Qatar Airways' boarding pass will require to present at least one of the below documents as valid identification.
a. Seaman's Book or Continuous Discharge Certificate (CDC) is a seafarer's identity document issued by
their country and certifies that the person holding is a seaman
b. On-sign / Off-sign letters from the seafarer's or Letters of Guarantee from offshore worker's employer or agent.
Can marine passengers on all flights use Mariner Lounge?
Eligible seafarers or offshore workers should be connecting to or from a Qatar Airways scheduled flight, special flight or charter flight and be in possession of a Qatar Airways ticket & boarding pass.
What are the facilities available at Mariner Lounge?
Qatar Airways Seafarers and Offshore worker passengers, can retreat to our exclusive Mariner Lounge to relax and enjoy refreshments while they wait for their onward flight. They can indulge in an international selection of offerings as well as fresh deli-style food, with a selection of delicious wraps, sandwiches and juices, at their discretion, choose from a selection of wine and beer. In addition to Food & Beverages, facilities include unlimited high-speed Wi-Fi, shower facilities, a television area, reading materials and Business Centre.
Is there a limit for usage of Mariner Lounge?
No, eligible seafarers and offshore workers can avail of the lounge facilities free of charge for the entire duration of their transit in Doha.
Where is the lounge located?
Mariner Lounge is centrally located on the second level Duty Free Plaza South of Hamad International
Airport, within a short distance to the gates and other facilities.