Our MD Dave Thompson is organising a fundraising page for the Ukraine appeal as he has close friends and work colleagues who have been personally affected by the current situation in this country.
Dave told the story at the recent Focus Leaders Lunch about his friend and colleague who owns a marine travel business based in Kyiv and Odessa, and who, along with his wife have had to leave Kyiv and move to Lviv (a city in Western Ukraine, about 70km from the border with Poland).  From there he arranged accommodation for his staff and their families, using his fleet of coaches to transfer them to Lviv.  Ukraine men who are under 60 years old are not permitted to leave the country, however, woman and children who wished to leave Ukraine have been taken to the border on these company coaches.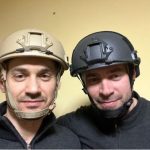 From a warehouse in Poland, the coaches are then used to carry collected donations and supplies back across the border to Lviv and then moved on to various cities including Kyiv where their team on the ground distribute them where needed.  The coaches then return to Lviv with as many people on board as can be arranged.  However, this is still very dangerous and sadly one of the owner's humanitarian distributors in Kyiv was recently shot dead in Kyiv whilst delivering aid to those who need it most.
Millions of families are displaced and only left with their immediate effects and therefore everything else is being provided through the generosity of charities and humanitarian efforts of their colleagues and friends abroad, hence Dave's appeal for support in any way possible.
"It was amazing to receive the reaction to my story at the Focus lunch – I was truly humbled.   The humanitarian mission that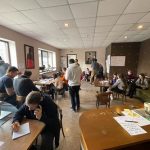 we are undertaking is something I have to do from my heart, it brings it home when you personally know people that are affected and suffering, rather than viewing from afar on the TV". Commented Dave.
"Any help that our Partners can offer will be really appreciated by me but more so to Anatoly, my friend and business colleague, in Ukraine – thank you".
For more information, please contact Dave Thompson via davet@marine.travel and to donate, please visit this link https://gofund.me/b0edf9f9